This diagnostic program will make sure that REST API access is properly granted to HubShop.ly. This is an important part of the authorization process which enables HubShop.ly to send and retrieve information for your HubSpot portal.

What to Look For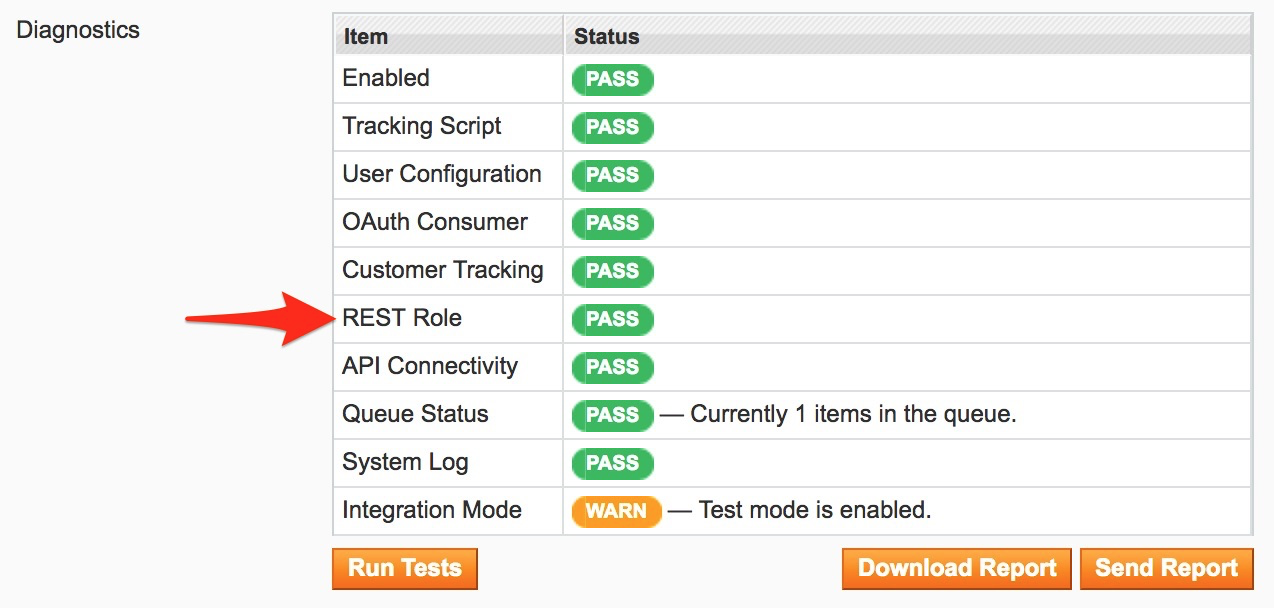 What it Does

This diagnostic program will confirm that a REST role and attributes have been created for your activated store.

Tip: When you start setup for the first time, this is automatically configured.

Possible Statuses

PASS

A passing status means that the your REST API is configured to allow HubShop.ly to communicate.

FAIL

A failing status means that no REST role could be verified for use with HubShop.ly. If this happens, you can try to reset your installation by clicking the Reset button in the Support section. This will restart your HubShop.ly installation and attempt to setup the REST role for you automatically.


Alternatively, you can configure this yourself. See below for more information.

Dependencies

The Enabled test must be passing.

Manually Setting up the REST Role

HubShop.ly will attempt to automatically configure the REST role for you. However, in some circumstances this may not work for your application. If the diagnostic test fails, you can do this manually by following the steps below:

Log into your Magento admin panel

Select System > Web Services > REST - Roles

Select Add Admin Role

In the Name field, enter "HubShop.ly"

In the Role API Resources tab, choose All for Resource Access

Save the role

Return to the new role's management screen

In the Role Users tab, click the checkbox next to your own username


If your username does not appear, click the Reset Filter button

You may ignore the warning given about role assignment


Save the role

Once the role is setup, you must then define the accessible attributes for your user under this role. Follow these steps:

Select System > Web Services > REST - Attributes

Select Admin from the User Type list

Set the Resource Access field to All

Save your changes

Once finished, re-run the diagnostic tests and confirm that it is passing.