This diagnostic program will make sure that the consumer needed for connecting HubShop.ly is present. An OAuth consumer is an important part of authentication for HubShop.ly. It enables HubShop.ly to send and retrieve information about your store to your HubSpot portal.

What to Look For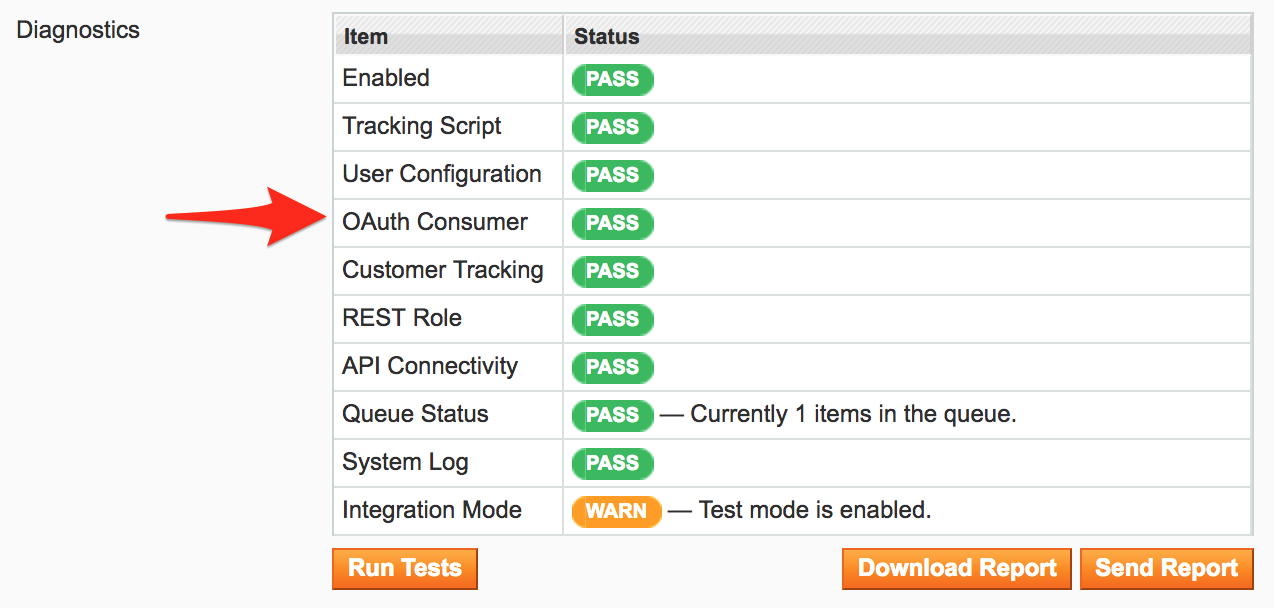 What it Does

This diagnostic program will confirm that an OAuth consumer has been created for your activated store.

Tip: When you start setup for the first time, the consumer is automatically created.

Possible Statuses

PASS

A passing status means that the consumer was found and your store can authorize HubShop.ly.

FAIL

A failing status means that the consumer record was not found for the store. If this happens, you can try to reset your installation by clicking the Reset button in the Support section. This will restart your HubShop.ly installation and attempt to setup the consumer for you automatically.

Alternatively, you can create the consumer record yourself. See below for more information.

Dependencies

The Enabled test must be passing.

Manually Creating the Consumer

HubShop.ly will attempt to automatically create the consumer for you. However, in some circumstances this may not work for your application. If the diagnostic test fails, you can create the consumer manually by following the steps below:

Log into your Magento admin panel

Select System > Web Services > REST - OAuth Consumers

Select Add New

In the Name field, enter "HubShop.ly #" and the ID of the store you are trying to fix


To find your store ID, select System > Manage Stores

In the Store View name column, select the target store

In your browser address bar, the ID is listed to the right of the store_id parameter.


An example would be "HubShop.ly #5"

You must match the format of this name exactly

Save the record

Once created, re-run the diagnostic tests and confirm that this is passing.